One of the specialty gardens featured in our Teaching Herb Garden, located at Elm Bank in Wellesley, Massachusetts.

This introduction to Salvia plants was written and reseached by Riekie Sluder, a member of The New England Unit of The Herb Society of America.

Updated Plant List, June 2008

Clary sage, Salvia sclarea, once used as a medicinal plant to treat eye disorders, is used in the making of perfumes. It is a biennial which seeds itself once established. The fruit salvias are used as culinary herbs and in potpourri. Pineapple sage, Salvia elegans, and fruit-scented sage, Salvia dorisiana, are both annuals in our zone but cuttings can be taken in the late summer to grow indoors. Painted sage, also known as annual clary sage, Salvia viridis, is a decorative annual that attracts humming birds and butterflies. 

Most salvias prefer a well-drained soil and a sunny location. Once established salvias are low maintenance and drought resistant. However, not all salvias are hardy in our region and some can only be grown as annuals in the garden. But, as stated earlier, cuttings can be taken to over winter indoors. Salvia flowers range in color from red to pink to lavender to deep purple but there are also white varieties available. With careful selection of plants, you can have a continuous bloom of salvias throughout the growing season.

References:

Clebsch, Betsy. The New Book of Salvias: Sages for Every Garden. Portland, Oregon: Timber Press, Inc. 2003.

Dufresne, Richard F. Salvia Placard Handbook, Volume 1.  313 Spur Road, Greensboro, NC, 1997. 

Lovejoy, Ann. The Sage Garden:  Flowers and Foliage for Health and Beauty. San  Francisco: Chronicle Books, 2001. 

Sutton, John. The Gardener's Guide to Growing Salvias. Portland, Oregon: Timber Press Inc., 1999. 

Note: Most of these volumes can be found in The New England Unit's holdings at the MassHort Library at Elm Bank.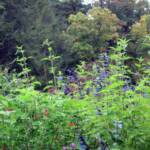 Salvias are members of the mint family and have been grown for centuries for their culinary, medicinal, aromatic and ornamental properties. There are over 900 known species of salvia found worldwide with half of them originating in the Americas. The most commonly grown salvia is the garden sage, Salvia officinalis, imported from the Dalmatian coast of Croatia. Garden sage is a hardy perennial used to flavor poultry, sausage and stews.

Researching Salvias: An Interview with Jack E. Hurd and the accompanying article: A Quick Overview of Salvias and Salvia divinorum appeared in the Fall, 2008, edition of the Pennyroyal Papers, newsletter of The New England Unit of The Herb Society of America, and is posted here with permission.